Wednesday, September 23, 2009 at 07:27PM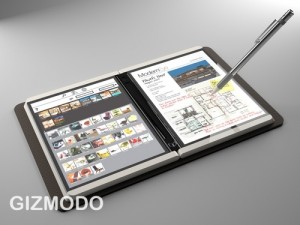 This just in: a new drool-worthy piece of tech that I want yesterday.  In short, it's a two-sided tablet type computer that has multi-touch capability.  The down-side, it's from Microsoft....but maybe they have some new employees on the usability side.
Here's where it might come in for voice talent: some voice over artists like to read their copy off of a monitor, whether to save paper or for easy scrolling.  This can be tricky, however, since it will involve running cables into your booth; a monitor cable, and probably a mouse/keyboard cable as well.  With this device, I would imagine loading up a PDF or Word doc and flipping through the pages would be a dream...very quite page turns, and you're saving the environment.  Plus it looks like there would be very easy highlighting/note-taking functionality with the stylus.
The downside is that this would be purely a "reader."  With a cabled in monitor you could also edit in-studio, like
this example.
Check out the nifty video example in the full article over at Gizmodo:
Microsoft's secret tablet
Adam
|
Post a Comment
|
1 Reference
|
in
Voice Over